IMPORTANT
:
Please, help me to have a real translation
sending me an email
(to perfectdams(at)gmail.com) with your text. This page was automated translated and it's a bad english. You can translate or write your own text (keeping pictures). In the bottom of the page, it will be write "translated by" with your name and a link through your web site if you want. The french page is always available at the bottom of all pages. I have a lot of pages to translate (Zelda, Mario, Castlevania, Faxanadu,...).
Join the team,
send me an email
Super Mario 64 (and DS) : Course 9 - Dire, Dire Docks : Coins and et Overview

Stars of level
Overview
There is a carapace in a shell at the bottom of the second basin. li>
You have to finish the level "Bowser lava" li>
There is a big hole in the second basin that takes you outside the castle of Peach. Be careful, the current takes you there. Li>
The 8 red coins
All the red pieces are above the second basin, you must have finished "Bowser lava" to get them. Press the purple button and take the left steps that appear. To have all the red pieces, just hang on the black and yellow stakes. Go first to the left then take the other 4. Go from one to another to catch them all and take the other one.
Bonus Star
There are not many more pieces in this level (106) so you have to take one of the 2 rows of picture 1 pieces near the whirlwind that draws you and all the red pieces. There is a blue button that shows 6 blue pieces above the second basin on the path of the red pieces.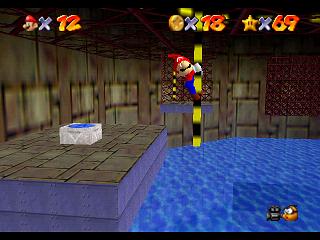 Soluce of 15 Levels
Previous Level : Shifting Sand Land
Star
-
Coins and et Overview
-
save
Next Level : Snowman's Land
Star
-
Coins and et Overview
-
save
---
Caps, Stars and levels location
- Version Française -- English version -- Version Deutsche -