(to perfectdams(at)gmail.com) with your text. This page was automated translated and it's a bad english. You can translate or write your own text (keeping pictures). In the bottom of the page, it will be write "translated by" with your name and a link through your web site if you want. The french page is always available at the bottom of all pages. I have a lot of pages to translate (Zelda, Mario, Castlevania, Faxanadu,...).
You can visit the page "Coins and et Overview".
1 - Snowman's Big Head
Head to the "Ice Track" and jump over the hole that produces them. Follow the path to the ice bridge. To avoid being blown away by the guy, there are 2 solutions. Either you climb on the penguin's head or you stay hidden behind him in relation to the breath. Then follow the climb to the star.
Fullscreen
2 - Chill with the Bully
Go to the ice platform and hit the big frosty dung several times to make it fall into the icy water.
Fullscreen
3 - In the Deep Freeze
Enter the big ice cube by one of the 3 connected entrances. Take a somersault on where there is no ceiling. Then go out on top of the ice cube and fall into the other hole to take the star.
Fullscreen
4 - Whirl from the Freezing Pond
Go to the "Ice Track" and jump on a villain in the water to make a spin that will take you to the other side of the wall. The star is in the left block.
Fullscreen
5 - Shell Shreddin' for Red Coins
Visit the page dedicated to coins.
Fullscreen
6 - Into the Igloo
Take the carapace (next to star 4), and take the small climb with 3 pieces next to the "ice track". Enter the igloo while crawling. Go under the star and turn right then left. Go over the ice wall to take the blue cap. Quickly return to the entrance of the igloo to take the star on the platform in the air.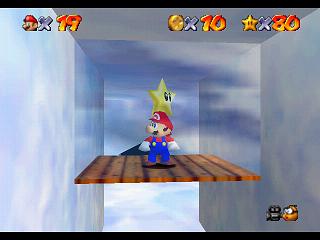 Fullscreen
Bonus Star
Visit the page dedicated to coins.
Previous Level : Dire, Dire Docks
Star
-
Coins and et Overview
-
save
Next Level : Wet-Dry World
Star
-
Coins and et Overview
-
save