IMPORTANT
:
Please, help me to have a real translation
sending me an email
(to perfectdams(at)gmail.com) with your text. This page was automated translated and it's a bad english. You can translate or write your own text (keeping pictures). In the bottom of the page, it will be write "translated by" with your name and a link through your web site if you want. The french page is always available at the bottom of all pages. I have a lot of pages to translate (Zelda, Mario, Castlevania, Faxanadu,...).
Join the team,
send me an email
Super Mario 64 (et DS) : End of the game

Mario falls back in the garden of the castle and the star of Bowser turns into the princess who as agreed to make a cake to Mario.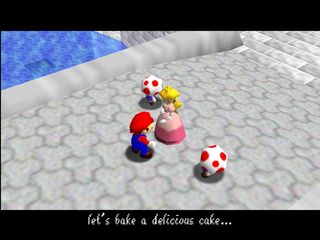 Fullscreen
The sequence of credits
Fullscreen
Yoshi
If you got 120 stars. A cannon will unblock in the yard. You can take it to reach the roof and meet Yoshi who will give you the maximum life. You will also find a red cap that will allow you to fly above the garden of the castle of the princess.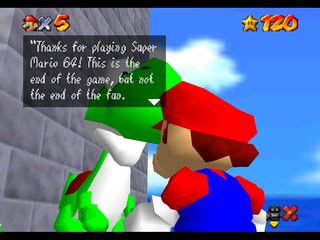 Fullscreen
Soluce of 15 Levels
Caps, Stars and levels location
- Version Française -- English version -- Version Deutsche -