IMPORTANT
:
Please, help me to have a real translation
sending me an email
(to perfectdams(at)gmail.com) with your text. This page was automated translated and it's a bad english. You can translate or write your own text (keeping pictures). In the bottom of the page, it will be write "translated by" with your name and a link through your web site if you want. The french page is always available at the bottom of all pages. I have a lot of pages to translate (Zelda, Mario, Castlevania, Faxanadu,...).
Join the team,
send me an email
Super Mario 64 (DS and Switch) : Course 3 - Jolly Roger Bay : Coins and et Overview

Stars of level
Overview
You have to talk to the Pink Bob-Omb to open the barrel. Li>
There is a turtle shell in a shell. It allows you to swim much faster. Li>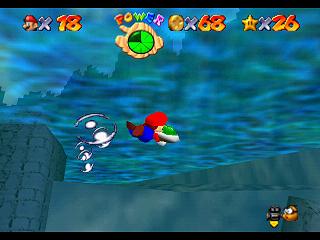 The 8 red coins
At the top of the pillar next to the Bob-Omb. Li>
In a shell. Li>
In a shell. Li>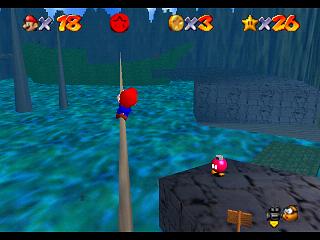 In a shell. Li>
In a shell. Li>
On the bow of the boat back to the surface. Li>
At the back of the boat on the right. Li>
At the rear of the boat on the left. li>
The star appears at the stern of the boat.
Bonus Star
Two little things to get the bonus star: press the purple switch to reveal bridges. Break the blue button in the cave to reveal 6 blue pieces. A round of 8 pieces is at the foot of one of the pillars near the star 5. There are only 104 pieces in the bay so anyway, it will take almost all take.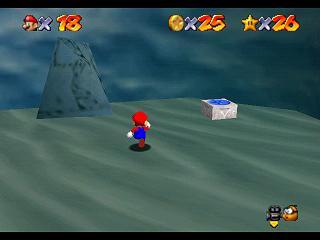 Soluce of 15 Levels
Previous Level : Whomp's Fortress
Star
-
Coins and et Overview
-
save
Next Level : Cool, Cool Mountain
Star
-
Coins and et Overview
-
save
---
Caps, Stars and levels location
- Version Française -- English version -- Version Deutsche -