(to perfectdams(at)gmail.com) with your text. This page was automated translated and it's a bad english. You can translate or write your own text (keeping pictures). In the bottom of the page, it will be write "translated by" with your name and a link through your web site if you want. The french page is always available at the bottom of all pages. I have a lot of pages to translate (Zelda, Mario, Castlevania, Faxanadu,...).
The Hall

The entrance to this castle is once again a tribute to Castlevania 1 with a striking resemblance to the beginning of this game on the first steps. Then other enemies arrive and you continue your way without particular difficulties.
Candlesticks

A small passage on a black (and red) where huge chandeliers chandeliers swing to allow you to go from platform to platform. If you do not want to take a chance, jump on it when they get to the right. Go from right to left of the chandelier when he goes to the right (let him make a round trip). Finally jump from the left of the chandelier to the next platform.
The reception room

Still candlesticks but these do not fit well. Be careful, when they crash, a candle spurts a little bit and will touch you if you are too close (or so, you have to jump). After the second candlestick, you can hit the ground of your whip to find a secret passage full of objects. Hearts, health points, money bag and choice of weapons. I kept the boomerang. A ghost dog will attack you, when you kill him, his old master (ghost too) will burn his body with his torch. Further, you will meet funny ectoplasms. It takes 3 shots to kill them and they explode in a horizontal beam which fortunately is not dangerous. Finally, ghosts in white evening dress will run on but they require only a whiplash.
Above the reception room
You find yourself in a place still a little lugubrious populated skeletons and ghosts. Hands catch you so that a skeleton can strike you but disappear when you kill the skeleton. Tables must be hit twice before they attack you. The dancers are a little more difficult to avoid but do not touch you for 1 second after your appearance which greatly facilitates the task. After some adventures you arrive at the boss in what could be the old ballroom.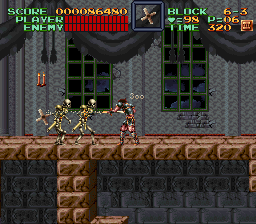 The boss of level 6: The dancers
These 2 dancers have a pretty simple strategy, they are heading towards you. To escape them, it will be necessary to wait for them at the bottom then to go up (or vice versa). While fleeing, think about hitting them. They can throw 3 foils at you or run horizontally on your side of the screen, one pointing to the foil horizontally and the other vertically. The 3 foils can be broken with whiplash while the horizontal attack must necessarily be avoided. As often, with boomerangs and stuffing, it goes easy.
Go to the next level : the library.