IMPORTANT
:
Please, help me to have a real translation
sending me an email
(to perfectdams(at)gmail.com) with your text. This page was automated translated and it's a bad english. You can translate or write your own text (keeping pictures). In the bottom of the page, it will be write "translated by" with your name and a link through your web site if you want. The french page is always available at the bottom of all pages. I have a lot of pages to translate (Zelda, Mario, Castlevania, Faxanadu,...).
Join the team,
send me an email
Super Castlevania IV (SNES US)

Akumajo Dracula on Super Famicom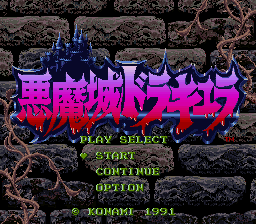 Super Castlevania IV (Super Nes Europe)

If I had very much liked the first 3 castlevania on Nes, I acquire this version of the game yet beautiful in 1996 is 4 years after its French release. Super Castlevania IV is a remake of Castlevania's first name on Nes. If in Japan, it was assumed (the game had the same no than the 1st opus: Akumajo Dracula), in Europe however, it is called "Super Castlevania 4". That said, most people consider it to be an original game. Already, there are 5 additional levels (the first 5) that happen before passing the big gate of the castle. In addition, the next 6, although they look the same on the map are also completely different and only the first part of level 6 is a tribute to level 1 Castlevania. There are of course other points in common with the bosses first (bat, Medusa, Mummy, Frankenstein, Death and obviously Dracula are all at the rendezvous). But also the sewers, the clock tower ... and especially, the big stairs leading to Dracula's room where the final fight takes place. In short, a real original game with a gameplay adding a few shots and flexibility in jumps, a great visual and sound for a game worth a visit. Surely less difficult than its elder, with codes to allow you to reach directly the desired level, you have no excuse not to try (and finish).
Super Castlevania IV: the file / soluce
In this folder on Akumajo Dracula / Super Castlevania 4, you will find a kind of "walkthrough" which is not really a given the type of game but basically, I describe the different stages of each level. So you will be able to contemplate Introduction, level 1, level 2, level 3, level 4, level 5, level 6, level 7, level 8, level 9, level A, level B and to finish, the epilogue and the credits end of game. The SC IV reports also contains some bonuses to know User guide, a page about the bosses, a page with all codes to directly reach your favorite level / boss (or the current level) and finally a page listing the differences between the European, American and Japanese versions.
- Version Française -- English version -