IMPORTANT
:
Please, help me to have a real translation
sending me an email
(to perfectdams(at)gmail.com) with your text. This page was automated translated and it's a bad english. You can translate or write your own text (keeping pictures). In the bottom of the page, it will be write "translated by" with your name and a link through your web site if you want. The french page is always available in the bottom of all pages. I have a lot of page to translate (Zelda, Mario, Castlevania, Faxanadu,...).
Join the team
Double Dragon II sur Nes : écran titre et introduction
"It appears our battle is finally over. But i will leave you with the legend of the Shadow... 'If the illusion spreads, the evil will live again. But if two dragons soar through the sky, an angel will fall to the earth. Soon... I will die and you will join me. Farewelle Double Dragons. Ha, Ha, Ha!" "......." "The mysterious warrior died, leaving no clue to what his last words meant. But Billy and Jimmy felt their revenge was complete... At least for now... When two dragons soar through the sky, an angel will fall to the earth... That night an angel descended from the heavens and returned Marian to the Double Dragons alive and well."
The team which create Double Dragon II : Staff (Technos)
Programmed By :
S.Kumagai
K. Sonoda
G. Fukuhara
T. Obinata
Character Designed by :
B.G (background) designed by :
Graphic designed by : K. Mukai
Sound composed by : K. Yamane
Sound programmed by : M. Hirasawa
Directed by : H. Sekimoto
Special Thanks
T. Ando
N. Fujita
M. Kido
K. Kishimoto
M. Shiroto
W. Little
M. Yoshida
S. Tamai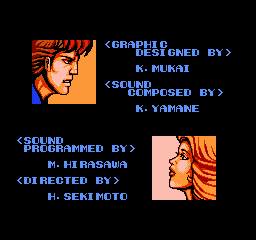 Happy end.
- Version Française -- English version -