IMPORTANT
:
Please, help me to have a real translation
sending me an email
(to perfectdams(at)gmail.com) with your text. This page was automated translated and it's a bad english. You can translate or write your own text (keeping pictures). In the bottom of the page, it will be write "translated by" with your name and a link through your web site if you want. The french page is always available at the bottom of all pages. I have a lot of pages to translate (Zelda, Mario, Castlevania, Faxanadu,...).
Join the team,
send me an email
Kung Fu sur Nes - First floor : Stick Fighter boss
First level
Only 2 types of enemies are present at level 1: the base enemy and the knife thrower. If you kill the 12th enemy with a jumped kick, you will gain 5,000 points.
Boss of first floor : Stick fighter
The boss of level 1 is a man with a stick. A kick jumped to stick to him, he will not be able to touch you anymore. Then hit without stopping and you will have it when it recoils.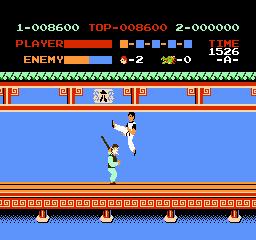 The Stick fighter is defeated, you can climb the stairs to second floor.
- Version Française -- English version -