(to perfectdams(at)gmail.com) with your text. This page was automated translated and it's a bad english. You can translate or write your own text (keeping pictures). In the bottom of the page, it will be write "translated by" with your name and a link through your web site if you want. The french page is always available in the bottom of all pages. I have a lot of page to translate (Zelda, Mario, Castlevania, Faxanadu,...).
Boldey's dungeon nail is obtained. More than a part of Dracula and Simon Belmont will be able to invoke it. Normally, the equipment is enough so Simon will go right on the Laruba house. For that, go left. At the lake, equip yourself with the red crystal and kneel down. The lake is empty, go down and go left.
So here are 2 passwords (Laruba is not far from Bodley so it's a shame to end up in Jova but hey ...):
my walkthrough game's password
A cool password
In this old prison, start by going left in block jumping. Talk to the old guy who will make your morning star inflamed.
Retrace your steps just before the screen change and go up and then break the wall with holy water.
Cross the prison to the left.
Cross the next screen by killing the fire men and flying skulls.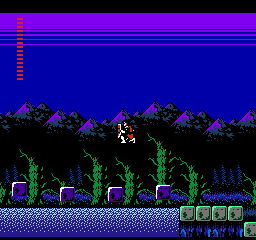 Then cross the marsh. If you have laurel, do not hesitate to use 2 to avoid losing too much life. At the end of the road you will find the Laruba Manor.
Enter the Laruba Mansion for the rest of the walkthrough.