(to perfectdams(at)gmail.com) with your text. This page was automated translated and it's a bad english. You can translate or write your own text (keeping pictures). In the bottom of the page, it will be write "translated by" with your name and a link through your web site if you want. The french page is always available in the bottom of all pages. I have a lot of page to translate (Zelda, Mario, Castlevania, Faxanadu,...).
Go straight to the wall and climb the stairs and the next 2. Then go left and go up two more stairs.
Go right, go up 2 stairs and go right until the screen changes.
Eliminate the 2 gargoyles and get off. You can fire flames at the armored guard to kill him. If you wish, on the right is a clue explaining that you have to go down in front of Deborah's cliff and wait for the spirit.
Go left and buy the oak stake to the seller then go down all the way down and go right. Then cross the small room with three bats.
Death is in front of you. To overcome the great reaper, a simple but effective technique is to swing without stopping the sacred flame.
Failing to make the fight exciting, this technique will (not very quickly) because of Grim Reaper who will leave in the ashes still smoking silver dagger.
Just to the right, in the old cell, you will find as usual a ball that will leave a bag once destroyed with the oak spear. This bag contains Dracula's eye.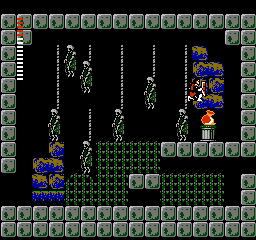 Climb the stairs, go left and go down to go out where you came back. If you have the means, buy a stake again. In the next mansion, you will avoid a big detour.
You now have eyeball. Continue the adventure .