IMPORTANT
:
Please, help me to have a real translation
sending me an email
(to perfectdams(at)gmail.com) with your text. This page was automated translated and it's a bad english. You can translate or write your own text (keeping pictures). In the bottom of the page, it will be write "translated by" with your name and a link through your web site if you want. The french page is always available at the bottom of all pages. I have a lot of pages to translate (Zelda, Mario, Castlevania, Faxanadu,...).
Join the team,
send me an email
Zelda 3 Super Nes : Epilogue (gba, Snes mini, super nintendo)
Welcome Link. I am the essence of the Triforce. The Golden Power of the Triforce of the Gods, grants the wishes of the person who touches it. If a person with a heart of gold touches her, all her good wishes will be granted. If a person with a dark heart touches her, she will grant her wishes evil. The more the wish is strong, the more powerful is the expression of this wish by the Triforce. Ganon vowed to conquer the world. This vow changed the Golden Earth in World of Darkness. Ganon having developed his power here, could conquer the World of Light. But you have now annihilated Ganon. His Dark World is going to faint. The Triforce is waiting for its new owner. His golden power is in your hands. Now, touch it by making a wish in your heart.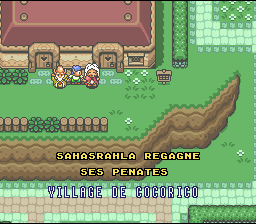 Fullscreen
- Version Française -- English version -