IMPORTANT
:
Please, help me to have a real translation
sending me an email
(to perfectdams(at)gmail.com) with your text. This page was automated translated and it's a bad english. You can translate or write your own text (keeping pictures). In the bottom of the page, it will be write "translated by" with your name and a link through your web site if you want. The french page is always available at the bottom of all pages. I have a lot of pages to translate (Zelda, Mario, Castlevania, Faxanadu,...).
Join the team,
send me an email
Zelda 3 Super Nes : Misery Mire to 7th cristal (gba, Snes mini, super nintendo)
save
Go to the bomb shop in the dark world instead of Link's house. Buy the big one pink bomb (do not run and do not jump the walls with) and go to the pyramid (the one where you start). Make a hole where it is cracked (1) with the big bomb that follows you and enter. Throw your arc (2) and your sword (3) in the water and the fairy will make you more powerful (magic sword and silver arrows).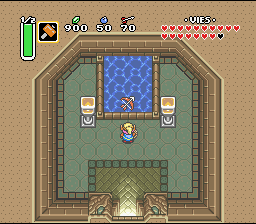 Then go to the mountain of death (world of light) and take the teleporter to the top. Throw in the hole and enter the cave (1). Depress the heads and use the magic cape (2) to reach the chest in which the Byrna cane (3). Get out, use your magic mirror and go back to the teleporter. Go a little bit your left and teleport yourself thanks to the magic mirror. Jump from the platform up and take the bridge on the right.
Press the stakes, continue to the right, lift the big stone at the foot of the stairs and push the stakes in the following order: right, up, left (1). Take the teleporter and use the magic of shaking on the grounded medallion (2) to open the turtle rock. Before entering level 7, go left and lift the stone. In the cellar, go straight. Here, look closely and you will see the slabs drawn slightly. Follow them and make a hole in the top wall (3).
Then make a hole in the left wall (1), go down and use your magic mirror. Take it 1/4 heart and jump through the small hole (2) to return to Turtle Rock save Zelda (3).
Here is a save for the ZSNES emulator (to copy and paste in the ROM folder).
Fullscreen
- Version Française -- English version -