IMPORTANT
:
Please, help me to have a real translation
sending me an email
(to perfectdams(at)gmail.com) with your text. This page was automated translated and it's a bad english. You can translate or write your own text (keeping pictures). In the bottom of the page, it will be write "translated by" with your name and a link through your web site if you want. The french page is always available at the bottom of all pages. I have a lot of pages to translate (Zelda, Mario, Castlevania, Faxanadu,...).
Join the team,
send me an email
Zelda 3 sur Super Nes : Ice Palace to sixth crystal palace (gba, Snes mini, super nintendo)
save
Leaving the ice palace, go into the world of light and then play from the flute to get to 6 (southwest). Lift the right stone and take the teleporter (1). Go to the top right of the swamp and use your magic mirror (2). Lift the stone and take the stairs (3). Push the stones to get 1/4 heart then return to the world of darkness.
Go to the left of the marsh and enter the cave (1). Push the stones and open the chests to get 1/4 core. Get out and place yourself on the lightning symbol to the right of the cave and use the magic of the ether (2). Level entry 6 appears and the rain ceases (3). Prepare for face the worst dangers in: Misery Mire.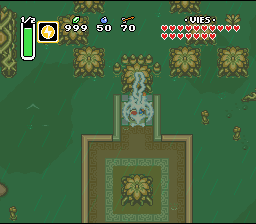 Here is a save for the ZSNES emulator (to copy and paste in the ROM folder).
Fullscreen
- Version Française -- English version -