IMPORTANT
:
Please, help me to have a real translation
sending me an email
(to perfectdams(at)gmail.com) with your text. This page was automated translated and it's a bad english. You can translate or write your own text (keeping pictures). In the bottom of the page, it will be write "translated by" with your name and a link through your web site if you want. The french page is always available at the bottom of all pages. I have a lot of pages to translate (Zelda, Mario, Castlevania, Faxanadu,...).
Join the team,
send me an email
Zelda 3 sur Super Nes : from Forest Palace to 4th crystal palace (gba, Snes mini, super nintendo)
save
Get out from the forest by the southeast and go east to the cemetery. Above the cemetery is a small ledge. Climb on and use your magic mirror (1). Enter the cave (2), break the pots and blow up the back wall to get 1/4 heart. Get out of the cave, return to the world of darkness and return west to the village of Bandits (corresponding to the Cocorico village in the light world).
Visit houses : the one in the top right contains a safe 300 rubies (and a painting by Mario); in that from above to left (1), there is 1/4 of heart hidden in a chest (play to find it). There is another chest with 300 rubies in a henhouse (2) south (make the entrance fart). In the center of the village is the statue of a gargoyle: pull its trident (3). This is the palace of 4thcrystal: Bandits village.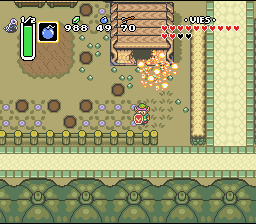 Fullscreen
- Version Française -- English version -