IMPORTANT
:
Please, help me to have a real translation
sending me an email
(to perfectdams(at)gmail.com) with your text. This page was automated translated and it's a bad english. You can translate or write your own text (keeping pictures). In the bottom of the page, it will be write "translated by" with your name and a link through your web site if you want. The french page is always available at the bottom of all pages. I have a lot of pages to translate (Zelda, Mario, Castlevania, Faxanadu,...).
Join the team,
send me an email
Zelda 3 Super Nes : from dark palace to 2nd crystal palace (gba, Snes mini, super nintendo)
save
Go south west of the palace and jump into the water. Go to the left of the palace 5thcrystal (look at the map) and use your mirror magic in the stone circle (1). Take the 1/4 of heart and return to the world of darkness through the teleporter. Know that you can push the stakes with the magic hammer. go ahead Northeast of the map (where you bought the fins in the light world) and throw an object into the stone circle (2): you get the shakes medallion. Since we take a medallion, all take them! So just go to the left of the tower of Hera (3rd medallion), take the bridge and use the book to get the medallion of the ether (3).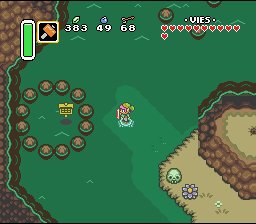 Get down below the bomb shop (your house in the real world) and make a hole just right (1) to get 300 rubies (there is a hole just above the guy who gives them to you). If you were in the world of light, there is a teleporter just below Link's house, left when you change screens. It is necessary drive a stake and lift the stone. Before entering the palace 2, head west to the purple stakes and use your mirror by placing you in the middle (2). Go left and use the book to obtain the flame medallion. return on the right, take the teleporter and go in front of 2th palace. Before entering, return to the world of light and enter in the corresponding structure. Open the dam by pulling the lever (3) and return to the world of darkness. You can now enter the palace of 2thcrystal, the palace of the swamp.
Here is a save for the ZSNES emulator (to copy and paste in the ROM folder).
Fullscreen
- Version Française -- English version -