IMPORTANT
:
Please, help me to have a real translation
sending me an email
(to perfectdams(at)gmail.com) with your text. This page was automated translated and it's a bad english. You can translate or write your own text (keeping pictures). In the bottom of the page, it will be write "translated by" with your name and a link through your web site if you want. The french page is always available at the bottom of all pages. I have a lot of pages to translate (Zelda, Mario, Castlevania, Faxanadu,...).
Join the team,
send me an email
Zelda 3 on Super Nes : After the first Medallion Palace (gba, Snes, super nintendo)
save
Return to The Old and talk to him. It gives you the Pegasus boots (1). Go to the right of Hylia Lake passing to the south of the house of Link. By the way, detonate the wall of image 2 to win rubies (300), arrows and bombs. Explode a bomb (3) at left of the entrance of the fairy cave: you get the wand ice cream.
go ahead south of the village of Cocorico in the library. Run with them Pegasus boots against the left shelf: you get the Mudora book (1). Go south of the house from Link and enter the little stone house. Raise, pull the lever who opens the dam and go out and take the 1/4 of heart (2). Go to the desert on the left. In the desert, go up to a small cave in which you find 1/4 of heartby exploding a wall (3) below the old man.
Get out of the cave and go left. Use the book (1) to read the inscriptions of the slab and go get the medallion in the Desert Palace (2).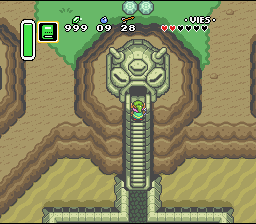 Here is a save for the ZSNES emulator (to copy and paste in the ROM folder).
Fullscreen
- Version Française -- English version -