IMPORTANT
:
Please, help me to have a real translation
sending me an email
(to perfectdams(at)gmail.com) with your text. This page was automated translated and it's a bad english. You can translate or write your own text (keeping pictures). In the bottom of the page, it will be write "translated by" with your name and a link through your web site if you want. The french page is always available at the bottom of all pages. I have a lot of pages to translate (Zelda, Mario, Castlevania, Faxanadu,...).
Join the team,
send me an email
Zelda 3 on Super Nes : Before the first Medallion Palace (gba, Snes, super nintendo)
Leaving the sanctuary, go left and follow the signs for you to the village Cocorico. Start by going to the left of the village and drop into the hole to the left of the cave to find the bombs (1). Ask one just above (2) to find a 1/4 of heart. Go to the house with the grass roof on the right of the hole, go down to the cellar, open all the chests and make the hole right of the stairs with a bomb (3). Open the chest, you get a 1/4 of heart (3). Go talk to the lady indicated by a cross on the map and visit the village.
Buy a flaskfrom the guy in the square and go take the butterfly netthat a boy is lending to you in one of the houses. Enter the hostel from behind (1, just in front of the boy's house) and open the chest to get a second bottle. Go down the village and talk to the boy next to the store (2). There you where is the Old? Go south of the village and make a hole in the left wall of the house of the twins. Participate in the race What does the lady propose to you? To win it, you have to jump over a barrier as on picture 3. If you win it, you get a 1/4 of heart.
Reassemble in the village, and exit by the northeast. Climb in the lost woods. Ride above a hut, remove the grass (1) and fall into the hole : you get a 1/4 of heart. Take the tree trunk from left to left of the hole to find a mushroom. Go see the Elder (2) who tells you that you must go recover the medallion in the Palais de l'Est (3) which is on the right of the house of the Elder (Sahasrahla). You can make a hole in the wall in the house of the Old.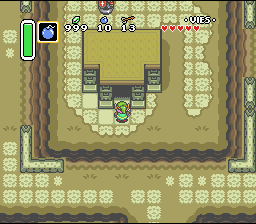 You can now enter the East Palace search for the locket. Here is a save for the ZSNES emulator (to copy and paste in the Rom file).
Fullscreen
- Version Française -- English version -