IMPORTANT
:
Please, help me to have a real translation
sending me an email
(to perfectdams(at)gmail.com) with your text. This page was automated translated and it's a bad english. You can translate or write your own text (keeping pictures). In the bottom of the page, it will be write "translated by" with your name and a link through your web site if you want. The french page is always available at the bottom of all pages. I have a lot of pages to translate (Zelda, Mario, Castlevania, Faxanadu,...).
Join the team,
send me an email
Zelda 3 on Super Nes : Prologue (gba and Snes mini : the super nintendo)
To begin, open the chest to find the lantern (1). get out from the house and go north to the castle. Go to his right and follow the path. Lift the bush from the center (2) and fall into the hole. Talk to your uncle to retrieve the sword and the shield (3).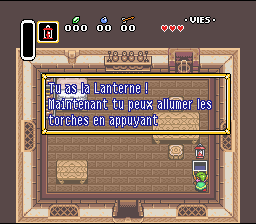 Leave the castle and return by the main entrance at the top (1). Take the first one to left and go to the top of the screen to take the door to the right. Take the stairs down (2). Kill the guard who you give a key. Open the chest: you get the map of the castle. Go down and follow the path to the room of image 3. Kill the guard and take the door on the right. Kill the other guard, take the key and open the chest to get the boomerang. Get out of the room and take the top door. Follow the slaves to the prison.
Take a vase and throw it on the guard's head (1). Do this 2 times. You get the big key. Open the prison door to free the princess. Return to the lobby and go up the stairs to the center of the room. Go to the end of the throne room and push the crest to the right (2). You will cross the sewers leading to the sanctuary.
In the sewers, it is dark but you can light torches with your lantern. The doors are successively: at the top right, left, up (take the key in the trunk right), left, top and top right (the key is in a rat). Now follow the path (at the top then down) to get to the lever room (1). Shoot one. Yes it's the right one, the door opens, otherwise kill the snakes and shoot the other one. Open the chest, you find a heart (2). Exit the sanctuary.
The adventure can really begin. Go to the part 1.
Fullscreen
- Version Française -- English version -