(to perfectdams(at)gmail.com) with your text. This page was automated translated and it's a bad english. You can translate or write your own text (keeping pictures). In the bottom of the page, it will be write "translated by" with your name and a link through your web site if you want. The french page is always available at the bottom of all pages. I have a lot of pages to translate (Zelda, Mario, Castlevania, Faxanadu,...).
In this Dungeon, you will meet for the first time Of the rabbits (Pols Voice). These animals are very resistant to the blows of swords, so I advise you to kill them with your arrows.
Start by going right and kill all the rabbits with your bow to get a key (1). Turn left, go up, make a hole on the left, then another hole on the left (2) and take the stairs after killing the blue knights. Go down, take the key and make a hole on the right to buy a rab 'of bombs (12 max instead of 8)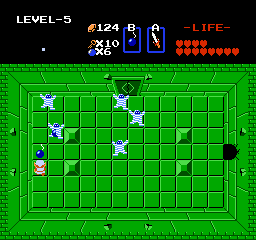 Go back to the stairs, go left and kill all the Darknut to push the middle block (1) and get the flute (one whistle according to the package leaflet). Turn right and go back up the stairs. Go 2 times to the right then kill the 3 mummies (Gibdos) to go up (1) and kill the 3 Dodongos. Go left, take the key , kill all Zols, return to Right, go up, and take the map . Go down, go right, go up and kill all the Gibdos to get A key . Ride and kill the 3 Darknuts to get the compass (3). go up again, take the key and go left. Kill all the mummies again to get a key . Go left again and get ready to face the boss: Digdogger.
The boss is called Digdogger, it is fairly easy to defeat since it is enough to first play the flute (1) Then to kill him with the sword once he became small.
Keys : D8 - C2 - B6 - D5 - D3 - C3
Map : C5
Compass : D4
Whistle : B1
You are ready to continue adventure.. Here a save(a ".sav" of 8 Ko).