(to perfectdams(at)gmail.com) with your text. This page was automated translated and it's a bad english. You can translate or write your own text (keeping pictures). In the bottom of the page, it will be write "translated by" with your name and a link through your web site if you want. The french page is always available at the bottom of all pages. I have a lot of pages to translate (Zelda, Mario, Castlevania, Faxanadu,...).
In this Dungeon, you will meet for the first time Vires, demons that, like the Zols, will turn into two Keeses (bats) when you hit them. If you Strike with the magic sword, they will die at once. You will also find many rooms without light. It is enough to use once the Candle so that this room is lit until you get out. You will also encounter Like Like Shield Eaters. If these Monsters will eat you, type as fast as possible, you may be able to have it before it has your shield.
Start by going left, kill all bats and take the key (1). Turn right and go up. Go right and take the compass (2). Get out and go up. Take the key And go left. Turn on and go up. Take the key and go up. Go right, kill all Vires (3) and go Still to the right.
Kill all the monsters and push the left slab (1). Go down the stairs, take the scale and Come out of the basement (do not hesitate to abuse the boomerang not to make you eat your shield by the Like Likes, especially if a Bubble touches you). Return 2 boxes on the left and go up. Go take the map on the right and make a hole at the top (2). Make another hole At the top, take the key and go to the right. Go down, kill all the Vires and push the block on the left To open the door of the boss (3).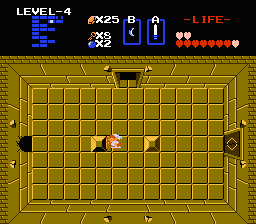 The boss is called Gleeok (the two-headed Gleeok or Two-headed Gleeok). It draws balls that even your magic shield Do not stop. To have it, you must type 4 times in each head. When a head "dies", it flies and shoots balls at you.
Keys : A6 - B6 - A5 - B1
Map : B3
Compass : C7
Ladder : C4
You are ready to continue adventure.. Here a save(a ".sav" of 8 Ko).