(to perfectdams(at)gmail.com) with your text. This page was automated translated and it's a bad english. You can translate or write your own text (keeping pictures). In the bottom of the page, it will be write "translated by" with your name and a link through your web site if you want. The french page is always available at the bottom of all pages. I have a lot of pages to translate (Zelda, Mario, Castlevania, Faxanadu,...).
Start by recovering the keys left (B6 & D6) and right of the start by killing villains (The 3 bats (Keeses) and one of the skeletons (stalfos)). Then go 2 times up and kill all the stalfos to get the key in C4 (1). Go right to get the compass . Turn left and go left again. If you want to start from this room (B4), you will have to kill all Bats but as you do not want to leave, go up (2). If you want to go to A3, kill the 3 "Gels" and push the block in any direction (3).
If not, go right. Take the map and go up (1). Kill the stalfos that has the key (C2), grab it and go up. Kill all the orange boomerang throwers (Red Goriyas), take the key (C1) and go left. Push the left block up and take the stairs. In the underground you will find the bow. Get out. To pass without encumbrance, pretend to pass and return on your steps: the crossed studs clash and return Gently (2). Go to that point. Then go to D3 (to the right of where you found the map) and kill all the red Goriyas to get The wooden boomerang (3). Go right again and avoid the hands that take you back to the key (E3) and Go up against the boss.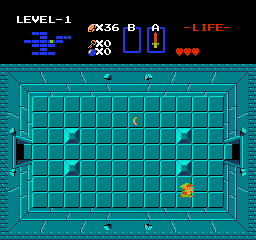 The boss is called Aquamentus, a kind of dragon unicorn. To kill him, it's easy, just stick to him and hit his head until he dies. If you have your whole life, set yourself as in picture 2 and shoot until Aquamentus leaves you heart. The door opens, go right take the first piece of the triforce.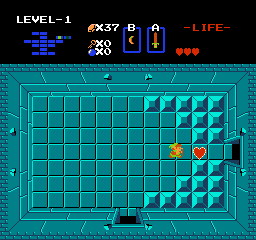 Keys : B6 - D6 - C4 - C2 - C1 - E3
Map : C3
Compass : D4
Bow : B1
Wooden boomerang : D3
You are ready to continue adventure.. Here a save(a ".sav" of 8 Ko).