IMPORTANT
:
Please, help me to have a real translation
sending me an email
(to perfectdams(at)gmail.com) with your text. This page was automated translated and it's a bad english. You can translate or write your own text (keeping pictures). In the bottom of the page, it will be write "translated by" with your name and a link through your web site if you want. The french page is always available at the bottom of all pages. I have a lot of pages to translate (Zelda, Mario, Castlevania, Faxanadu,...).
Join the team,
send me an email
Zelda Ocarina Of Time on Game Cube - End of the Game
Thanks to you Ganondorf is a prisoner of the infernal kingdom, the time for farewell has now arrived. Peace has returned to Hyrule and Zelda asks you to return the Ocarina to him in order to send you back to your time and close the paths of time forever. Your place is in your time.
Zelda Ocarina Of Time on Game Cube - Epilogue, party and Credit
Meanwhile, the party is in full swing at Ranch-Lon-Lon.
The sages watch the party from a distance while Link rests the sword of Legend forever.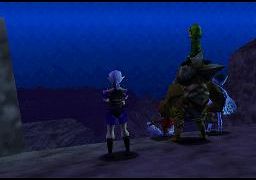 Fullscreen
- Version Française -- English version -